Absolut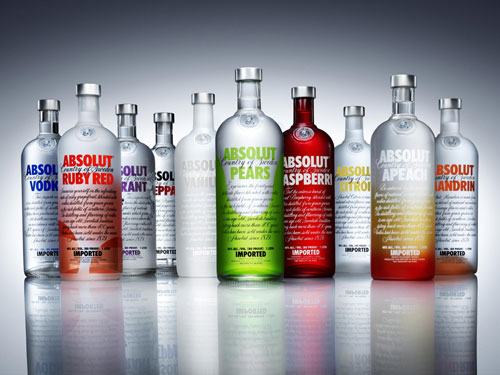 Absolut Vodka is a French-owned brand of vodka, produced near Åhus, Scania, in southern Sweden. Since March 2008, the company has been owned by the French firm Pernod Ricard, having been sold by V&S Group, which is owned by the Swedish government.
Absolut is the third largest brand of alcoholic spirits in the world after Bacardi and Smirnoff, and is sold in 126 countries.



Varieties
---
Several different types of Absolut Vodka.Absolut Vodka is available in many varieties. These varieties are unflavored beyond the standard process:
Absolut VODKA (40%, blue label)
Absolut VODKA (50%, red label)
Absolut 100 (100 proof, black bottle, flavour launched in 2007)
Absolut Masquerade (normal absolut vodka, blue label, in a sequinned red sleeve, launched 2009 with the slogan "In an Absolut world every night is a masquerade.")
Absolut DISCO (normal absolut vodka, blue label, in a special edition disco cover)
Absolut C'N'C Fashion Animal (limited edition by Ennio Capasa launched in 2007 - Italy)
Absolut Greensaver (limited edition, launched in 2008 - Greece) Absolut LEVEL, launched in 2004, is a super-premium vodka created and sold by but marketed separately from Absolut.
Absolut COLORS (40%, blue label) Limited edition celebrating 30th anniversary of the Rainbow flag. (311,000 bottles, also including a cocktail recipe book)
Absolut BLING-BLING (normal Absolut vodka, limited edition golden bottle)
Absolut Britto (normal absolut vodka, blue label, in a special edition design by artist Romero Britto, launched in 2003)
Absolut VANCOUVER (City themed bottle series limited to 60,000 bottles, launched in 2010)


Flavored Varieties,
---
Absolut PEPPAR (Roasted Jalapeños, Green Tomato and Dried Herbs flavor – the first flavoured Absolut Vodka, launched in 1986)
Absolut CITRON (Lemon flavour launched in 1988)
Absolut KURANT (Blackcurrant flavour launched in 1992)
Absolut MANDRIN (Orange and mandarin flavour mix launched in 1999)
Absolut VANILIA (Vanilla flavour launched in 2003)
Absolut RASPBERRI (Raspberry flavour launched in 2004)
Absolut APEACH (Peach flavour launched in 2005)
Absolut RUBY RED (Grapefruit flavour launched in June 2006)
Absolut PEARS (Pear flavour launched in January 2007)
Absolut NEW ORLEANS (Mango and Black Pepper flavour launched in August 2007). This is a special edition in an annual city themed series. 100% of the profits go toward various Gulf Coast charities.
Absolut MANGO (Mango flavour, launched in 2007)
Absolut LOS ANGELES (Acai, Acerola, Pomegranate, and Blueberry flavour mix launched in July 2008). This is the 2nd in the city themed series. Absolut is donating $250,000 from the sale of
Absolut Los Angeles to Green Way LA.
Absolut BOSTON (Black tea and Elderflower flavour with Clear bottle, green label launched August 2009)
Absolut FLAVOR OF THE TROPICS (Tropical flavour including orange, mango, lychee pineapple and melon launched October 2009)
Absolut BERRI AÇAÍ (blend of açaí, blueberry and pomegranate - launched February 2010).
Absolut BROOKLYN (City limited edition; red apple and ginger flavour. Launched in May 2010.)
[edit]



Absolut Recipes
Absolut Apple Martini
Absolut Hulk
Absolut Mixer
Absolut Splash
Absolut Vacation
Alexis Spicy Bloody Mary.
Baltic Murder Mystery
Birger Jarl
Black Martini 2
Canoe River Special
Carbonated Cranberry
Caucasian
Chambord Royale
Cherry Lover
Charlie Coke
Chocolate Martini Lite
Crantini
Dea Lea
Dream
Evergreen
Fear
Headshot
Hell
Hunk