Giacomo Conterno Barolo Monfortino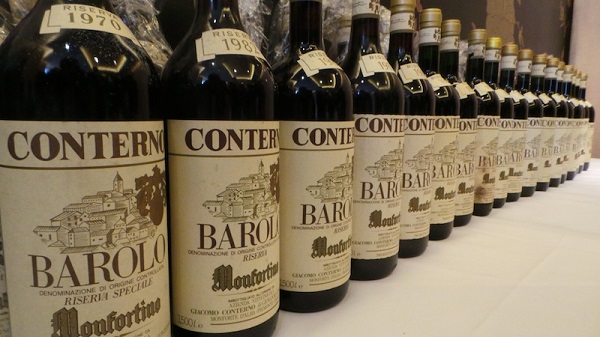 The ultimate and purest expression of Barolo can be found in bottles bearing the Giacomo Conterno name. In fact, they represent the ideal of traditional Barolo: rich, powerful, massively structured, and capable of long aging in bottle.
These majestic wines descend from a colossal legacy, spanning three generations of Conternos: Giacomo, Giovanni, and Roberto—in each case, the torch passing from father to son. Both Giovanni, who forged a reputation as the greatest of all Barolo producers, and now his gifted son, Roberto, have continued the important work of patriarch Giacomo.
Roberto Conterno is quick to tell us that the wines he makes belong to his father and grandfather. Yet his era may prove to be the most exciting. After all, Roberto benefits from the wisdom of both Giacomo and Giovanni. And Roberto has shown that he shares not only their genius, but also their devotion to tradition and history. 
The First Important Barolo
The Conterno crown jewel, Monfortino, is not only arguably the greatest Barolo; it was also the very first Barolo made in what has come to be known as the classic style. At the time that Roberto Conterno's grandfather Giacomo served in World War I, Barolo was generally sold in either cask or demijohn, meant for early drinking. But in 1920, when Giacomo returned from the war, he decided to create a Barolo with immense aging potential. That wine became known as Monfortino.
Over the next 54 years, Giacomo—and then his son Giovanni—made not only Monfortino, but also Barolo and Barolo Riserva. Each wine was made in much the same way, from purchased grapes, the main distinction being fermentation technique and time in cask. 
Cascina Francia

During the '40s, '50s and '60s, the Conternos could produce their epic Barolos by relying on small, independent farmers who worked their old, low-yielding vines. But by the 1970s, those farmers began increasingly to make their own wines. Threatened with the loss of their fruit sources, Giovanni acquired Serralunga's great Cascina Francia vineyard. With its fabulous exposure, and predominately calcareous soil, the site was perfect for the powerful Conterno style, and soon Cascina Francia became the sole source of their wines.