Jagermeister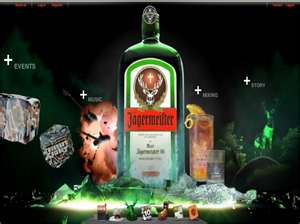 Jagermeister ) is a German 70-proof digestif made with herbs and spices. It is the flagship product of Mast-Jägermeister AG, headquartered in Wolfenbüttel, south of Braunschweig, Germany.
History
---
The term Jägermeister was introduced in Nazi Germany in 1934 in the new Reichsjagdgesetz (Reich hunting law). The term was applied to senior foresters and gamekeepers in the German civil service. Thus, when the liquor was introduced in 1935, the name was already familiar to Germans. Curt Mast, the inventor of Jagermeister, was an enthusiastic hunter.
In Germany, it is often humorously called Leberkleister ("liver glue"). The humor plays upon the fact that Leberkleister is an exact rhyme with Jägermeister.



Composition
---
Jägermeister is a type of liqueur called Kräuterlikör (herbal liqueur).
Jägermeister's ingredients include 56 herbs, fruits, roots, and spices including citrus peel, liquorice, anise, poppy seeds, saffron, ginger, juniper berries and ginseng.[4] These ingredients are ground, then steeped in water and alcohol for 2–3 days. Afterwards, this mixture is filtered and stored in oak barrels for about a year. When a year has passed, the liqueur is filtered again, then mixed with sugar, caramel, alcohol, and water. It is filtered one last time and then bottled.[5] It is a digestif spirit similar to other central European stomach bitters, such as Gammel Dansk from Denmark, Unicum from Hungary, and Becherovka from the Czech Republic. In contrast to those beverages, Jägermeister has a sweeter taste.
On its website and on the back of the bottle, the producer recommends that Jägermeister be consumed cold and suggests that it be kept in a freezer at −18°C (0°F) or on tap between −15° and −11°C (5° to 12°F).
Jagermeister Recipe
A Little Green Man From Mars
All Night Hunter
Aurburn Headbanger
Beauty and the Beast
Bitches From Hell
Black and Gold
Blond Headed Slut
Body Bag
Brain Eraser 2

Burning Nazi
Buttmeister
Bull Blaster
Chicken Drop
Chuck Wagon
Dizzy Damage
Dirty Oatmeal
Firetruck
Gorilla Fart 2
Jager Drop
Jager Bomb
Jagermilch
Jager Monster Shot
Killer Bee



Jagermeister Recipes cont.
www.jagerrmeister.com